(La versión en español sigue al inglés)
Dear Families,
In this Sunday's Gospel, Jesus reminds us about the importance of praying together.
We can pray with our family, our friends, and our church. Whenever two or more of
us are together our prayers become stronger!
As a family, watch video in its entirety and then ask each other this question.
Why can't you always see the answer to prayers right away?
Family Prayer: Dear Jesus, help us to remember that we can help each other
when we pray together. Amen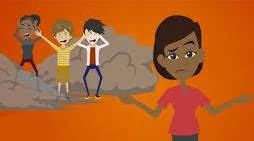 Click Picture
Watch video as a family.
---
Queridas familias,
En el Evangelio de este domingo, Jesús nos recuerda la importancia de orar juntos.
Podemos orar con nuestra familia, nuestros amigos, y nuestra iglesia. Cuando dos o mas
personas están juntas, nuestras oraciones son más fuertes.
Como familia vea el video en su totalidad y luego pregúntese el uno al otro
¿Por qué no siempre puedes ver la respuesta a tus oraciones inmediatamente?
Oración en familia: Amado Señor, ayúdanos a recordar que podemos ayudarnos
el uno al otro cuando rezamos juntos. Amen

Clic la foto.
Vea video como familia.
---
Bertha Keenan, Director
St. Anne's Parish
Family Faith Formation
Brentwood, NY
This email address is being protected from spambots. You need JavaScript enabled to view it.
631-231-7344