Bulletins
Saint Anne Statue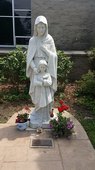 Confession
God is always ready to forgive, unconditionally! Come back to Confession. Confessions will be heard at 5:00 p.m. before the 5:30p.m. daily Mass Monday through Friday.
Confessions will be heard at 8:30a.m., just before the 9:00a.m. Spanish Mass on Sundays and at 10:30a.m. just before the 11:00a.m. Mass on Sunday
Also Every Saturday 4:00 p.m.—4:45p.m. Just before 5:00p.m. Mass
Or by appointment with a priest by calling the Parish Business office 273-8113.
Confessions available in English, Spanish and French.
Latest Articles