Saint Anne's R.C. Church
88 Second Ave, Brentwood NY 11717
Telephone: 631-273-8113 • Fax: 631-436-7914
Parish Email: This email address is being protected from spambots. You need JavaScript enabled to view it.
Pastor's (Fr. Stan) Email: This email address is being protected from spambots. You need JavaScript enabled to view it.
Associate Pastor's (Fr. Victor) Email: This email address is being protected from spambots. You need JavaScript enabled to view it.
Associate Pastor's (Fr. Charlince) Email: This email address is being protected from spambots. You need JavaScript enabled to view it.
Please Read: Easter Letter From Bishop John Barres
Important Notice: All activities including mass and Religious Education classes (this includes RCIA classes) are cancelled until further notice. Please read on for further details.
Aviso Importante: Todas las actividades, incluyendo misa y clases de Educacion Religiosa (tambien clases de RICA), seran cancelados hasta nuevo aviso. Para mas detalles, continue leyendo.
---
Watch Live from Our Facebook Page & YouTube Channel All Masses during Holy Week
Ver en Vivo desde Nuestra Pagina de Facebook & Canal de YouTube Todas las Misas de Semana Santa:
https://www.facebook.com/saintannebrentwood/
https://www.youtube.com/channel/UCuiUMT2L68rWQSlIU9mXzrg
Holy Thursday/ Jueves Santo - April 9th, 2020
7:00PM Trilingual

Good Friday/ Viernes Santo - April 10th, 2020
3:00PM Trilingual
Liturgy of the Word of Good Friday & Stations of the Cross
Holy Saturday/ Sábado de Gloria - April 11th, 2020
7:00PM Trilingual
Easter Vigil Mass
Easter Sunday/ Domingo de Pascua - April 12th, 2020
9:00AM Español
11:00AM English
12:30PM French-Creole
---
From Deacon's Bench
By Deacon John


Wednesday of Holy Week - April 8, 2020
Matthew 26: 1-25
Today we celebrate Wednesday of Holy Week, also known as "Spy Wednesday". It has traditionally been known by that name because it was on Wednesday that it was believed Judas, one of the 12, one of those closest to Jesus,betrayed Him.
You remember the account don't you? It is written about in our reading for reflection today, taken from the Gospel of Matthew, the 26th chapter. I do encourage you to get out your bible and read it. There is great benefit for your spiritual life in reading and reflecting on the Word of God.
The Chief Priests and leaders of the people were afraid for the People of God. Jesus had become something of a phenom and people were following His new ways. New ways of following God, new ways of thinking about God and the Law.
So the High Priest, Caiaphas, and the other leaders consulted and by treachery began a plot that would see Jesus arrested and put to death. Jesus knew this was about to happen and told the Apostles "You know that in two days time it will be Passover and the Son of Man will be handed over to be crucified" (26: 2). He knew where His life was heading and chose to remain steadfast completing the Will of the Father. There is a great lesson there for us all.
Before all this came to happen, Jesus was in the town of Bethany, in the house of Simon having dinner. And a woman came and using a costly perfume poured it on His head (26:6-7). This act of service for Jesus was done not to be showy, but is done in preparation of His burial. The custom then was to anoint the body of the deceased prior to burial.
The disciples don't see this connection. In fact, they are up in arms about the whole thing. They challenge Jesus saying "why this waste? It (the perfume) could have been sold and the money given to the
poor" (26:9). Jesus knowing this, teaches that while we always have those in need all around us, and we can help them whenever we want to, Jesus Himself will not always be with them. We do have an obligation to care for others; it's what we are called to do as disciples. Just like some of the disciples thought 2000 years ago in Bethany.
But there was one disciple for whom none of what was occurring with Jesus sat well. Judas Iscariot went, we are told in 26:15-16, to the Chief priest and leaders asking what they would give him if he, Judas, turned Jesus over?
Can you imagine what was happening then? Judas who had been with Jesus for years now plots to surrender Him over. Judas who had seen Jesus rise from an itinerant preacher to someone who had fed the hungry. Jesus healed the sick and taught in the synagogue. Judas saw Jesus walk on water. He was a disciple of Jesus. A disciple who had seen Lazarus rise from the dead.
This was the Jesus whom Judas was to betray. Judas was to be paid 30 pieces of silver. It is thought that 30 pieces of silver in today's age would be around $200.00. Not much for a life.
The betrayal though cost much more. We know that Judas once realizing what he had done, returned the silver and went off and killed himself. A terrible end to a terrible deed.
So I'm thinking today about Judas and what he means for me. It's very easy and convenient to assign the blame of the death of Jesus solely upon him. Throughout history Judas' name and deeds have been synonymous with betrayal. And it's true he did betray Jesus.
And me? What about my betrayal(s) of Jesus. All my sins. My denying Him time and again. Those moments in my life where my thought is on my comfort and pleasure, even at the expense of my neighbors' needs.
Isn't this a betrayal as well? When I go my own way and do my own thing, isn't my sinful actions a betrayal of my baptism and the life of God I share in the Holy Eucharist?
I may not have taken 30 pieces of silver, but I am "rewarded" in other ways. I satisfy myself at the expense of my sisters and brothers instead of living as a servant. A servant like Jesus is.
Judas' life was more than what happened at his end. So is yours and mine. We have the opportunity to seek forgiveness for our sins and failings. To reach out to God and pray for mercy. This Spy Wednesday, be wary of the example of Judas.
Because he isn't the only one who betrays Jesus.
Peace and Blessings,
Deacon John
Our prayer intention today is for all the grocery employees and truck drivers who are keeping those shelves stocked for all of us.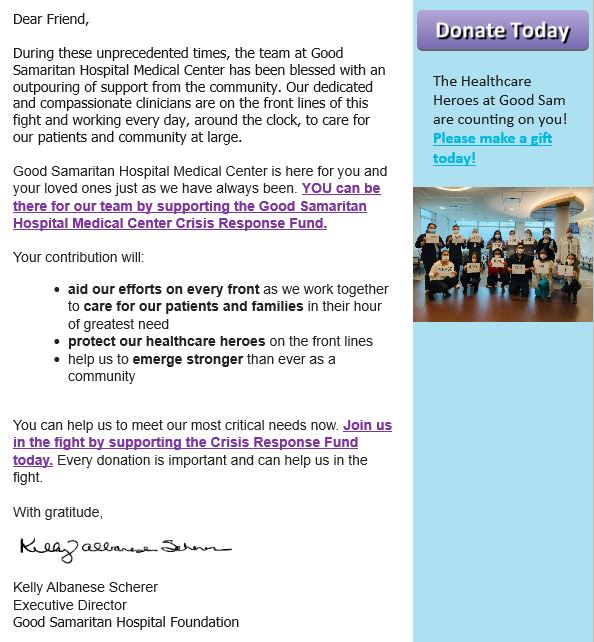 Join us in the fight by supporting the Crisis Response Fund today.
P.S. To find the latest resources on how to keep yourself and your family healthy and safe during the COVID-19 pandemic, click here for the latest news and resources from Catholic Health Services.